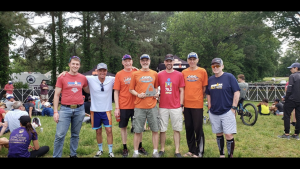 Every year NEMS votes on which race to choose as the team destination race and this year it was Ironman Virginia 70.3 held in Williamsburg on Sunday May 5th, 2019. The NEMS members that competed this year were Jim Piper, Craig Stoller, Rick Bolling, Bill Caldwell, Brian Muldowney, Dan McCombs, Jen Lane, Ryan L'Italien, and Chris Veilleux which is certainly a great group! Because the race was fairly close, many of them chose to drive the 11 hours down together which I am sure made for quite the interesting road trip but as you know, what happens on long car rides on the way to a race, stays in the car so we may never know the half of it. But what I do have to report is that when I reached out to the group to ask for content for the blog, the inside jokes, witty jabs, and sentences starting with "In my defense…" came immediately so I know they had a great time!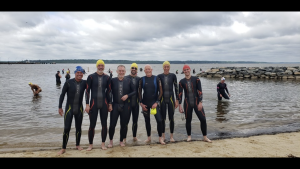 The team was fortunate to find a beautiful place to stay only a few miles from the start. It allowed them to recon the course and go back and forth as needed which was very convenient. The team stuck together most of the trip enjoying meals out and sharing a lot of laughs. It appears there was a very good discussion on researching your competition and knowing their previous race results if you are in it to win it. So in their banter around data and who did the most homework (aka stalking) I did learn this….."USA Triathlon has available a wealth of information on each member athlete and past races, and uses a rating system that equalizes comparative results to a numeric score that normalizes different course difficulty and weather conditions. You can search for all past scores for a particular athlete, or for a particular race. Bottom line – it's a smart thing to do during all the other preparation for an Ironman or 70.3 if you're plan is to podium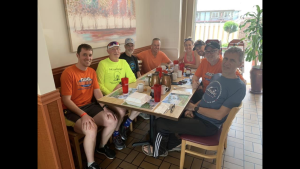 and it works!" So for those of you who want to know who you are up against and what it will take to win, check out the athlete list and stalk away!
And apparently the fan favorite of the weekend was Posie L'Italian. She was Sherpa extrodinaire and was getting shout-outs from the team all weekend!
So, how did they do? Here are a few blurbs….
Jim Piper:  My race went well, swim was quite congested for first and last 400 yards. Rains came as expected for the bike. Parts of the course were not ideal and the wet roads didn't help but my split was solid. The run was 2x an out and back on a path so no cars. Though quite congested, I enjoyed it. Most encouraging was that I was able to pick up my pace the last 3 miles which is very unusual and was after I'd turned my ankle at the turnaround (and got a hammy cramp). Net result was a 43 minute improvement over Patriot (similar flat'ish course) and leaving me encouraged for continued improvement. Then…bad news – my right shin flared up 2 days after the race and is not in good shape even now. Very disappointed but have to remain hopeful that icing, compression, ibuprofen and massage will get me past this soon. No running until then.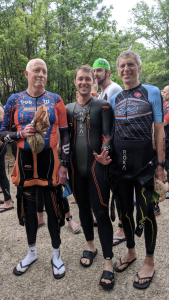 Rick Bolling: I was thrilled to be the age-group 1st place winner at Ironman 70.3 Virginia with an awesome swim and the best bike segment I have ever done. I had an amazing day, felt great, and executed to plan (even with a bit of struggle in the last 2 miles of the run). I feel a sense of accomplishment that I really can't describe. I earned a qualifying slot for the 2nd year in a row to the Ironman 70.3 World Championships, this year in Nice France (in September).
Jen Lane: I'm happy to have joined this group to be the example of no data used and longest team member time on the course. I'll continue to make you guys look good whenever I can. P.S. I had to finish because I had already been cheeky and bought a finisher shirt the day before.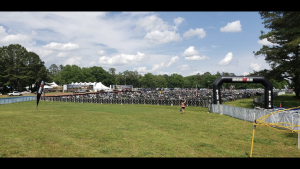 Dan McCombs: I had my first issue with electronic shifting in 2 years – the grip that holds the shifting button on next to my brake lever had a crack in it, and sitting on the car in the sun and heat driving down it split open a bunch more and apparently put some uneven pressure on the button. I had been in aero and shifting with my bar ends for the first 21 miles, then sat up in the slow train tracks section. The first time I shifted up with that button it stuck, and shifted me all the way to my smallest cog, and any time I tried to shift down it shifted me back up. I kept poking at it for a few minutes and got it to stop, and just had to remember not to use it the rest of the race. Of course, on the first real climb at mile 42, I sat up and out of habit hit both my brake lever buttons to shift down to my little front ring – which it did, as well as shifting me all the way to my smallest rear cog, I nearly fell over! And to add to that, I almost got my goggles knocked off with a punch at a turn buoy in the swim, and almost lost my shoe in a mud puddle coming out of transition to the run. Yet I still had a really fun time even with those things going less than perfect, so that's a good sign.
Bill Caldwell: It was a fantastic race weekend with these guys. Big shout out to Jim for organizing our trip…we had great accommodations close to the event. If you have not done a destination race with NEMS I highly recommend it…can't wait for next year!!! My race went well PR by a minute and first out of the water in my age group…I will take it:) Was great to see everyone on the course. As usual Spread Sheet Rick passed me at mile 20 then came Ryan at mile 30 leap frogging his way and finally Brian at 50…I'm improving on the bike but still have a lot work to do. The run is always fun w this group a lot of kind hearted banter as we would pass one another. Thank you Posie for all your support so appreciated. Congrats to Jen for completing her first 70.3. Lots of fun and laughs a great way to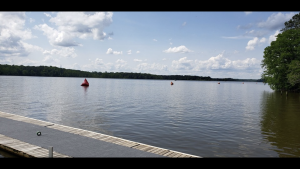 get the season going.
Brian Muldowney: Four weeks ago I had considered pulling the plug on IM VA 70.3 due to being sick for several weeks and having some issues with my ankle for a good part of the offseason. But I am happy I didn't – I was able to do a 5:25:17 and just missed a PR by a little more than 6 minutes. This race result is pretty motivating for the rest of the season. It was great carpooling down with Jim & Rick – it made the trip down and back go much faster. I had a great time being in VA with everyone from the club.
Ryan L'Italien: There are some funny stories from the trip. Pacelines, rain, lack of thunder, pot holes, Rick's data, egging on Bill etc! But as for my race, prior to today I had an average Half Ironman Time of 5:57 across 8 HIMs. It was a warm rainy day and I swam, biked, and ran a 5:15!! That was a 30min PR over my previous fastest!
The club earned 10th of 42 teams scored – without consideration to team size (and actually I believe there were over 70 teams there)!!
What a great race everyone!!! Congrats!!! And if anyone sees Craig Stoller…tell him to get on Facebook so I can stalk him too!!!! LOL