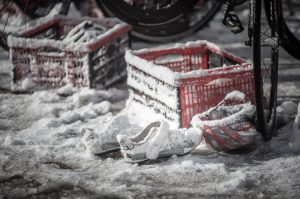 If you're like me, you're probably a member of a few triathlon or running groups on social media and often find yourself incredibly envious of those Southern California or Florida members posting smiling selfies from the 70° outdoor ride they just finished in mid-February. But instead of dreaming of what it would be like to train in beautiful weather year-round, it might be time to acknowledge the opportunity that our cold temps provide!
If the 2018 race season taught us anything, it's that come race day, you had better be able to embrace what you can't control, and the weather tops that list! Living in New England doesn't necessarily mean that cold temps on race day won't negatively affect you.
There were several races this past year where NEMS members faced some brutal weather challenges. Thanks to a recent highly scientific Facebook poll posted on our NEMS page and some solid social media stalking by yours truly, here are some firsthand accounts of what it's like to be thrown a major curveball heading into an "A" race!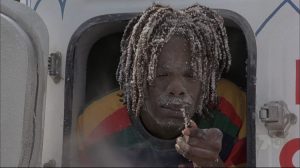 WIND, RAIN, AND COLD, ANYONE? –  Ironman Lake Placid (July) and Ironman Louisville (October)
If you don't think hypothermia could be a threat you face in New York in July or in Kentucky in early fall, guess again!
The 2018 IMLP bike course can be summed up with two words: "CRAZY WIND!"  Watching the pros race, you wouldn't have thought anything of it as they flew down the fast decent into Keene as if the wind were nothing. But for us common folk, it was a white-knuckler all the way down! And those poor people with the full disc wheels were getting blown all over the place. I'm pretty sure I saw one man crying as he looked over at me and said "I just want to get off this bike!" 2018 was IMLP's 20th Anniversary and now boasts their highest DNF rate to date! Several people dropped out after the first loop of the bike saying "There is NO WAY I am doing that again" while others were pulled off the course on the verge of hypothermia due to the relentlessly cold rain. As our very own Bob Balfour recounted, "Heading into Keene I was shaking so bad, even my bike was shaking as much as I was!"
As for IMLOU, the Ohio River woke up angry at this year's race, resulting in the swim being shortened from 2.4 miles to 0.9 miles because of unsafe currents. But that was not the only challenge in store for the day: the athletes also faced 45° weather accompanied by wind and rain the entire race! As NEMS member Bill Caldwell said, "It was a total mental battle not to quit." The triathlete Facebook pages were blowing up all day during this race, with the number one question being "What is going on in Louisville!?" as the DNF rate was going through the roof with people with hypothermia being pulled off the course left and right. The irony about this happening in Louisville is that this race was once held in the summer but was changed to a fall event due to the extreme heat. Be careful what you wish for, right?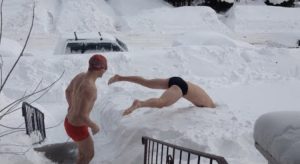 So back to the question at hand, is training in bad weather bad ass or bad judgment? We all know the quote "get comfortable with being uncomfortable" and for many endurance athletes, this becomes our mantra. But where's the line between valuable adversity training and just being over the top? Here's what some NEMS members whose numbers I have in my phone and haven't blocked me yet had to say…
Mike Dryer's answer to this question: "Yes, absolutely it makes a difference! You need to train your body to deal with adversity. Now, if there is black ice and you have tight muscles, would it be smart? Probably not. But how would swimming in a 76º pool prepare you for an Oceanside 70.3 swim or how would training in 75º dry weather prepare you for Louisville?" Mike is no stranger to terrible conditions. He raced Ironman Mont Tremblant in 2016 when it rained over 3 inches in less than 5 hours, making for a terrible bike course with some pretty bad crashes.
"I think the benefit of training through adverse conditions is really the mental fortitude you gain. And not giving yourself an out. Come race day, you just act instead of overthink. At least that was the benefit for me," shared Lori Vance.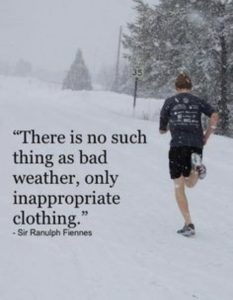 Another huge aspect of training in all sorts of weather is that you learn how to "dress for success." Are those gloves really waterproof? Does that hat make your head itch? Does that jacket ride up too much? Are your shorts see-through? These are all things you want to know ahead of time!
Stacy Sweetser is a big fan of being outdoors year round. "I wouldn't say I like 'bad' conditions, but I like adverse and tough (or not ideal) conditions. It makes you a better athlete." And with regards to people who don't train out of their comfort zones, "It is a mental and physical stress for people when they aren't prepared for some 'texture' on race day! I am always happy I rode in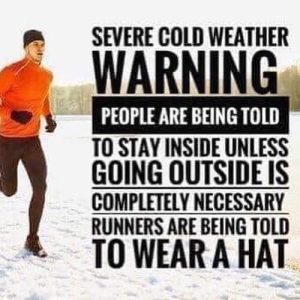 aero on windy days and had experience in wet conditions because it makes me so much more confident out on the course." That said, this self-proclaimed "safety nerd" also wants people to make sure they don't confuse "adverse weather training opportunities" with risk taking. "Staying safe and injury free is more important than any training opportunity, so just be smart about it!"
Jim Piper also wants to make sure people are staying safe as well. "I get that you don't know what conditions you will face on race day, but it isn't worth the risk of being seriously injured either. I've been on some long rides when it absolutely poured and it was invigorating and helped me feel confident riding in the rain, but there were some points when it didn't feel safe. But most of us don't race bikes in the winter, so stay inside and avoid the frost heaves and ice patches! Running is another matter… assuming they've plowed the road, get out there!"