On Sunday, June 12, NorthEast MultiSport let the New England Triathlon region know that there's a new big time club in the area.  NEMS had 30 members participate in this great event!  Despite the forecast calling for lightning, the race conditions ending up being nearly ideal with no rain coming during the race.  NEMSers took advantage of this and had an incredible showing.  Highlights from the event included Nate Thomas, finishing 3rd overall, which included the fastest bike split of the day.  Nicole Caron finished 1st in the 14-16 age group, Colin Cook finished 4th overall, 1st in the 20-29 age group, Nancy Epstein finished first in the 30-39 age group while Kara Andersson took 3rd in the same division, Chris Poulos took 3rd in the 30-39 men's age group, Michelle Poublon won the 40-49 woman's age group, Jay Francis took 3rd in 40-49, and Debra Stellato took 2nd in the 50-59 age group.  A special shout out to all our first time triathletes including:  Melody Miller, Carolanne Caron, and Nicole Caron.  Here is a picture of most of our competitors before the race: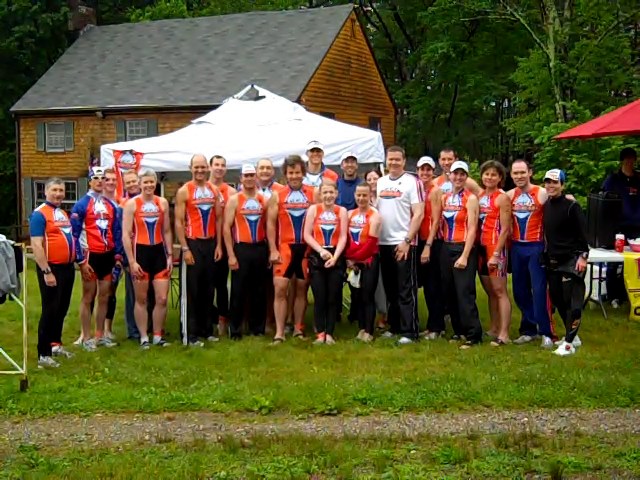 Here is some video of NEMSers during the race:
Here is a pic from after the race: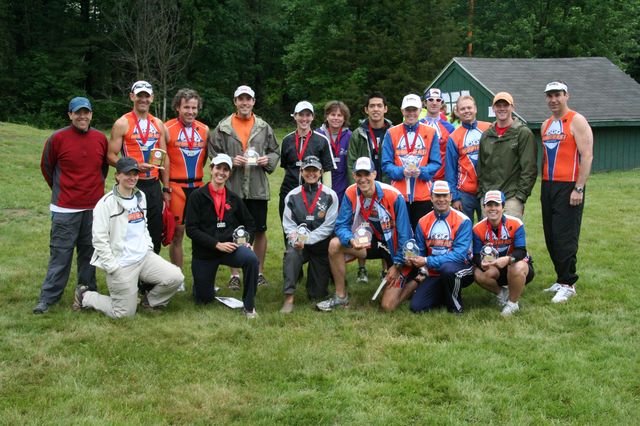 Here is a complete list of everyone that competed in the race:  Nate Thomas, Colin Cook, Jay Francis, Chris Poulos, Brent Osborn, Jim Petersen, Daniel Dugan, Warren Jackson, Christopher Veilleux, Adam Crowley, Nancy Epstein, Michelle Poublon, Bryant Dunn, Glen Lord, John Caswell, Dustin Delantar, Kara Andersson, Debra Stellato, Jennifer Cahill, Craig Thomas, John Jenkins, Frank Mulcahy, Mariah Shrey, Lynn Lutz, Christy Sprinkle, Bryan Lemire, Jonathan Bozek, Carolanne Caron, Nicole Caron, and Melody Miller.  Special thanks to NEMS members Fred Daniels (Race Director!) Jan Andersson, Laura Moran, Audrey Caswell, and Eddie McCormack for volunteering their time throughout the day and making this all possible.
NEMS was also lucky enough to have NEMS member Greg Indruk and Mike Poublon on course taking some amazing photos.  Here is a link to the pics Greg took on NEMS's Flickr page and here are a link to Mike's. Please feel free to download them, but Mike's photos will only be available for about 2 weeks.
Absolutely incredible job everyone!
Lastly, while most of NEMS was racing at the Nashua Y Tri, Liz Hall was in Maryland racing in the Eagleman Half Ironman.  Liz had a great race and finished in 5:01:56, which got her 5th in her age group!  That's on the podium for a big Ironman branded race.  Way to go Liz!