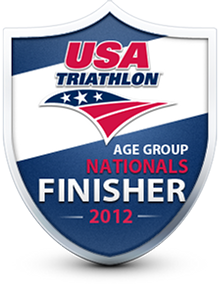 On the weekend of August 18th and 19th, nine members of NEMS and their families headed to Burlington, VT to match up against the best amateur triathletes in the country at the USAT Age Group National Championship. The weekend consisted of an olympic distance race on Saturday and a sprint race on Sunday. In order to participate, all racers had to qualify by finishing at or near the top of their age groups at a race in the past year. This made for some serious competition and fast finishes throughout the field.
Olympic distance racers Colin Cook, Nate Thomas, Brent Osborn, Richard Hostler, Kris Homoleski, and Jim Petersen, arrived in Burlington on Friday to register and rack their bikes. With all bikes tucked away in transition until the morning, it was time for a pre-race pasta dinner at Uno's, where the conversation quickly centered around the poster-sized sheet of bike, helmet, bag and body numbers we all received at registration. Then it was off to bed to rest up for the morning.
The sunrise was beautiful, but the wind that came with it was not so welcome. Saturday's race started with a rough swim through the choppy water of Lake Champlain. That accomplished, it was on to the closed bike course that included rolling hills and a section of Interstate 189, a course that Nate demolished with a blistering time of 1:00:46. The final leg of the race started with a run up a short but very steep hill before flattening out for a fast 10K.
Sunday was much cooler and calmer than Saturday's start and sprint racers Nancy Epstein, Jay Francis, and Chris Poulos took advantage by starting off with fast swims. The bike leg took a totally different course from Staurday's race, sending racers on a tour of the north end of Burlington and over another section of closed highway. The run started with the same punishing hill the olympic racers climbed and then leveled off, paving the way for some fast finishes.
NEMS was represented well both days, but the performance of the weekend goes to Chris for his 1:05:56 sprint race. This finish was fast enough to earn 8th place in his age group and qualify him for the World Championship in London. Way to go, Chris!