On Saturday, August 11th, Chris Kaminaris and Colin Cook competed in the inaugural Ironman US Championship that took place in New York City/New Jersey.  Despite some complications with the water that nearly caused the swim to be canceled and some pretty crazy logistics for a race in such a big city, the race went off as scheduled. The course started with a 2.4 swim in the Hudson river, followed by a 112 mile ride mostly on the Palisades Parkway, and then a 26.2 mile run that ended in Manhattan, but included a trip across the George Washington bridge.
Chris really took advantage of current in the swim to start his day off with a very fast 53:27 swim.  After that, Chris stayed disciplined on the bike and had a respectable bike split of 6:59:26 on the consistent rolling hills of the Palisades Parkway.  Chris then maintained a very steady pace during throughout the very challenging run course to finish his marathon in 5:18:59,  allowing him to complete his first Ironman in 13:35:10.  Way to go Chris!  YOU ARE AN IRONMAN!!!  Here is a picture of Chris crossing the finish line: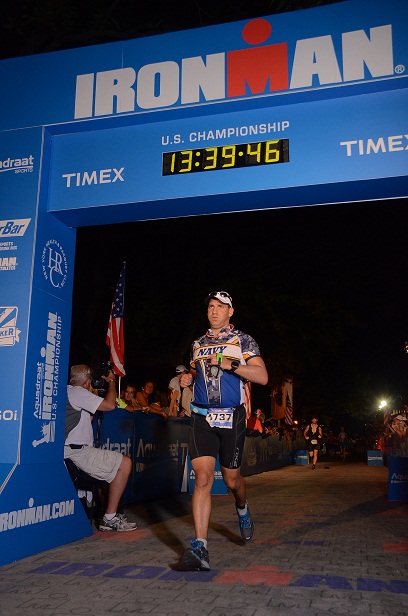 Colin Cook had a very big day as well.  Colin also advantage of the current during the swim to come out of the water in 45:42.  Colin then stayed very disciplined on the bike finishing the 112 mile ride in 5:26:17.  Colin then completed the 5th fastest marathon in his age group of 3:30:57 on the very hill run course to complete his 5th Ironman in a total time of 9:48:07.  Colin ended up as the 25th overall age grouper of the nearly 2500 participants and earned a qualification into the Ironman World Championships in Kailua-Kona, Hawaii on October 12, 2012.  Here is some video of Colin heading down the finisher chute:
Outstanding job guys!!!