As May slipped into June, the triathlon season kicked into high gear. And NEMS members were ready! Though the month held a myriad of races, here were a few of the highlights:

On June 4th and 5th, the Quassy Olympic and Half took place in Lake Quassapaug of Middlebury, Connecticut. A challenging course full of climbs up rolling hills and rewarding views. The weekend includes both the Olympic and half distances, with members of Northeast Multisport racing both.
On June 12th over 25 NEMS members took on our home turf course at the Greater Nashua Sprint Triathlon. Other than the racers there were also many familiar faces volunteering on the course. It is always a great showing for the team! A fun course for racing, and friendly environment for those finishing their first triathlons.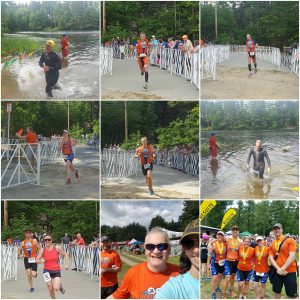 On June 18th a dozen NEMSers took on the Patriot Half in East Freetown, Massachusetts. A popular race with a great reputation, it was a good day to race for many. Congratulations to Stacy for winning her age group!
The very next day on June 19th NEMS racers faced a tough course with hot and humid conditions at Syracuse 70.3. The course was updated this year, and added 500 additional feet of climb. But that didn't stop NEMS racers from winning second place in Division IV for the Ironman Triclub Program!
Other June races included Ironman Raleigh 70.3, Ironman 70.3 Eagleman, and  Ironman 70.3 Mt. Tremblant. Needless to say, members kept busy!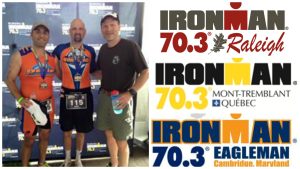 Check out our featured member race recap of Syracuse 70.3 here!