August was another very busy month for NEMS, including two major races both on August 21st!
Nearly 30 Northeast Multisport members took on the Timberman 70.3 course in Gilford, NH! With so many familiar faces on the course it was uplifting to hear so many cheers while racing. With such a strong showing and outstanding performances, Northeast Multisport won 1st place in the Division IV Ironman Triclub Program! NEMS also had the second high number of points overall for the event.
Many members raced with Make-A-Wish, raising almost $20,000, enough to grant wishes to 2 children facing life threatening illnesses. Those Wish Racers also had the opportunity to have a meet and greet with professional female triathlete Mirinda "Rinny" Carfrae on the Saturday before. Ironman featured the visit in their article!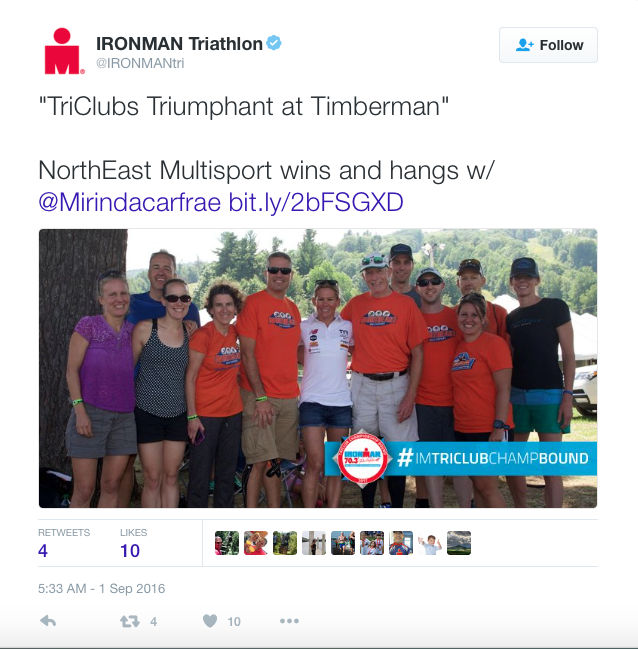 Meanwhile in Mont Tremblant, Québec, 9 NEMS members tackled the 140.6 course, in the rain! The day was long and the rain certainly posed a challenge, but that did not stop these racers from putting their all out on the course and having a good race. A few familiar faces were even featured in the 2016 Mont Tremblant video!
We had two members racing at the Age Group Nationals in Omaha Nebraska on August 13-14, congratulations to both for making NEMS proud!
The Cranberry Trifest Sprint and Olympic races took place in Lakeville, Massachusetts on August 20th and 21st. And the REV3 Triathlon at Old Orchard Beach, Maine.
Check out our featured member Timberman 70.3 race recap here!