May was packed to the brim with NEMS athletes taking on tough courses, working hard, beating personal bests, and taking podium spots!
Lucas Pozzetta finished as the 19th pro at IRONMAN St. George 70.3, with a final time of 4:09:16!  Tom Frost took home 3rd overall place at at chill Polar Bear Du, winning his age group. Frank Mulcahy, Susanne Carpenter, Holly Golden finished the Wallis Sands Half Marathon. Congratulations to Holly on the new 13.1 PR!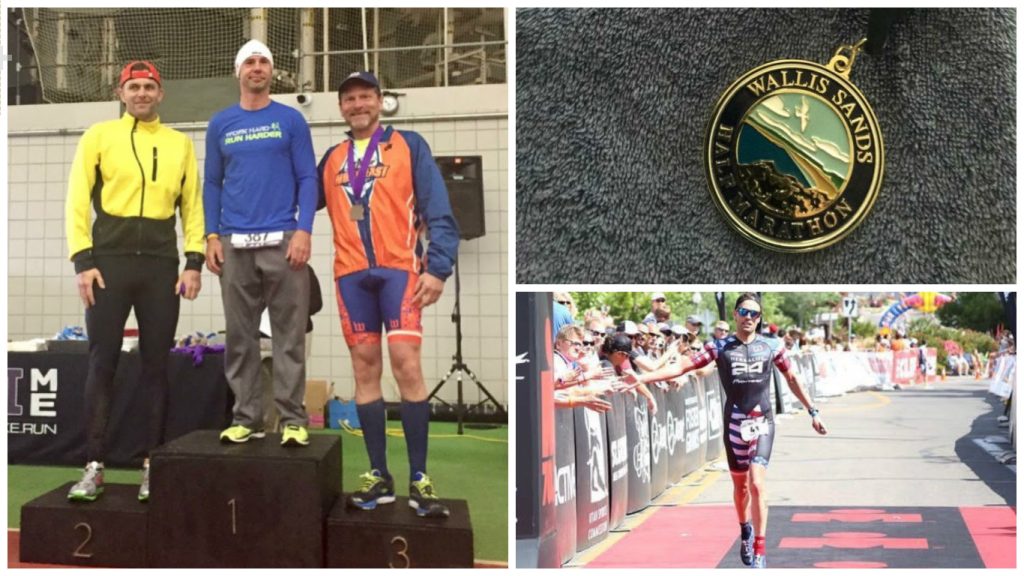 Debbie Leo, Kevin Gray, Larry Rodman, Lori Vance, Mark Leo, and Mia Konovelchick ran Cinco de Miles. Congratulations to Debbie and Mia for setting new 5K PRs! Larry then ran Ragnar Cape Cod the next weekend.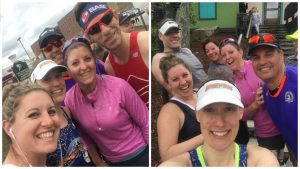 Dan McCombs took the 39.3 challenge at the Maine Coast Marathon. Check out his blog for the full story on the back to back half and full marathon, complete with crazy weather and an extended marathon course.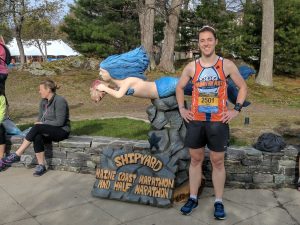 NEMS athletes were all over the New England Season Opener: Craig Stoller 2nd AG (1:01:53), Dana Breeden 4th AG (59:01:00), Jake Dodge 5th in division (1:21:20), Mark Officer 10th AG (1:24:38), Rick Bolling 4th AG (1:01:53), Stacey Dybel 3rd AG (1:06:49), Tom Frost 4th AG (1:00:22), and Zuzka finished 3rd overall female (1:01:09).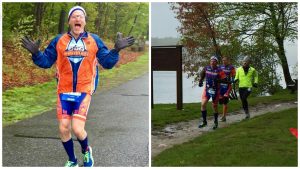 Dan Levesque, Mark Hecox, and Sarah Crane rode the Tour of Battenkill.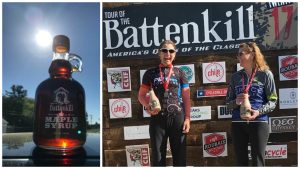 Colin Cook finished Xterra Way Over Yonder 1st in his age group, and 8th overall. Dan McCombs and Zuzka Trnovcova rode Crank the Kank Time Trial, Larry Rodman ran the Bedford Rotart 12K, and Norman Kim raced the HarryMan Triathlon.
Jessica Greenwood, Lori Vance, Mark Leo raced the Gate City Half Marathon. Lori set a new PR finishing 1st AG, and 4th female overall.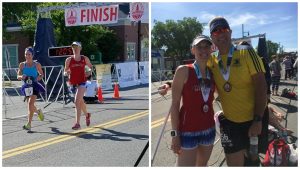 Steve Vargo finished 2nd AG, 9th overall at IRONMAN Chattanooga 70.3, you can read his full race report here.
Rick Bolling, Mike Bukowski, and Brian Schmidt rode the CRW Spring Century ride. NEMS rode the annual Kranc the Kank group ride on Memorial Day weekend, after having to reschedule because of bad weather in early May. David wrote a detailed recap of the day here.
Dan McCombs, Jessica Caissie, and Mo Wheeler ran Vermont City Marathon and Dana Breeden ran the Relay. Check out Jess' race report here.
Stephanie Vore Apple closed out the month with the Boston Run to Remember Half Marathon.
NEMS athletes wasted no time diving into early season races in April, showing all the hard work they had put in during the off season!
Steve Vargo took a 3rd place AG finish at IRONMAN Oceanside 70.3. Read his full race recap here. During the same weekend, Lucas Pozzetta finished 19th in the pro field at IRONMAN Texas 70.3.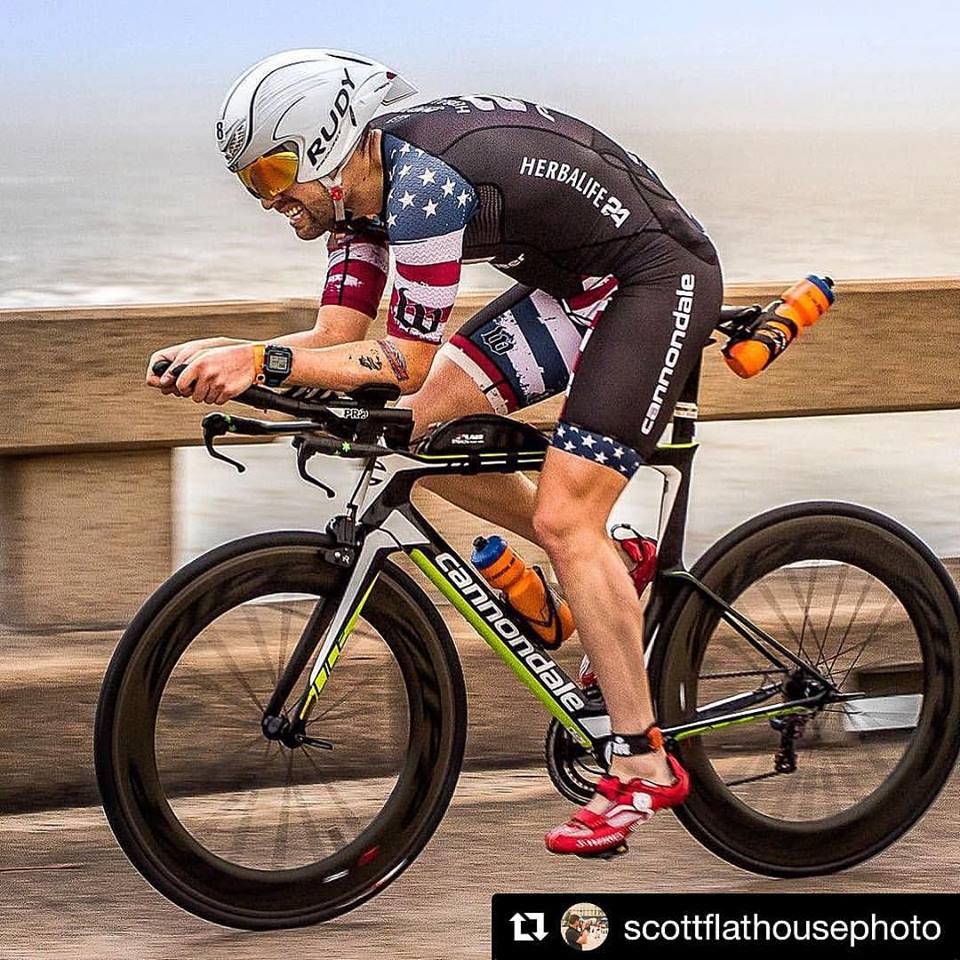 Dan McCombs raced the Great Bay Half Marathon in Newmarket, New Hampshire.
April is the month of the Boston Marathon! On Saturday, Debbie and Mark Leo raced the B.A.A. 5K. Debbie set a new 5K PR! Congratulations to Craig Stoller, Dan Dugan, Hans Larsson and Richard Hostler who all ran the Boston Marathon!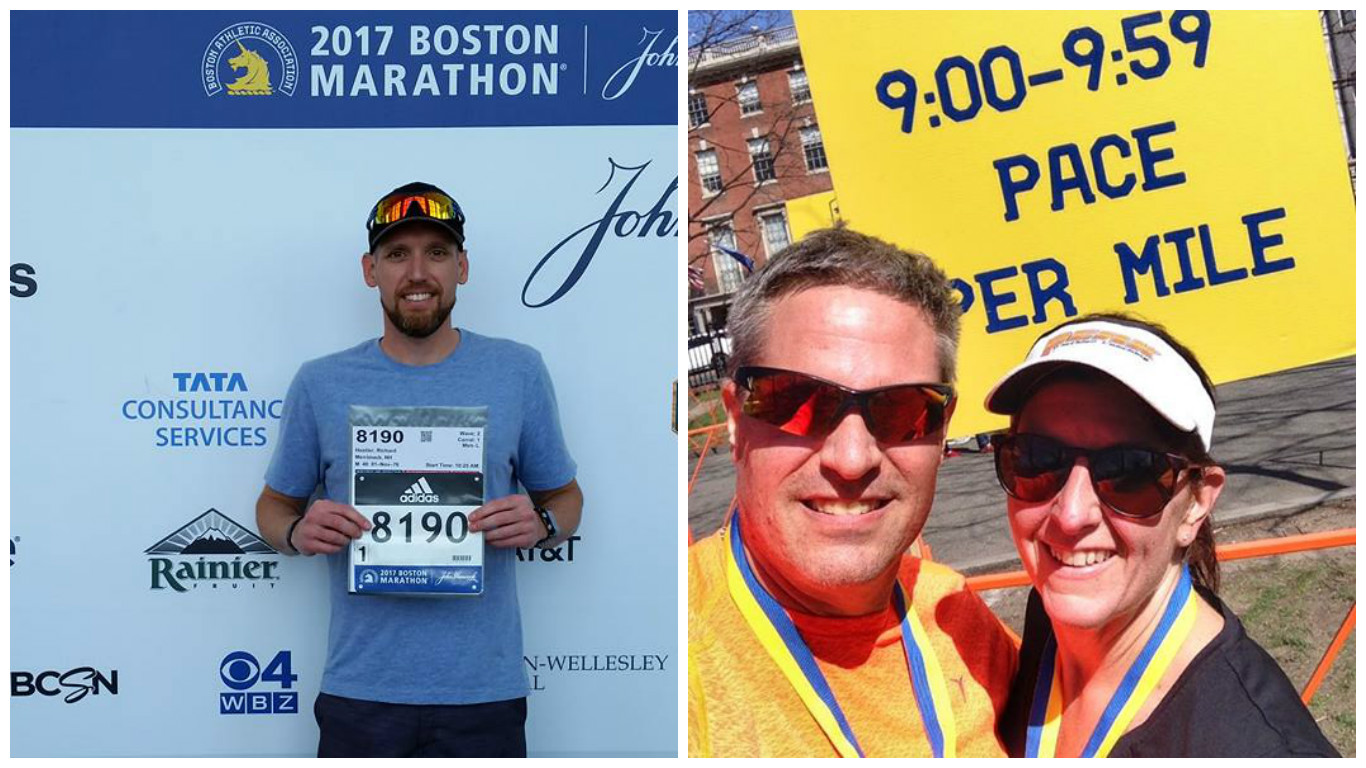 Three races quickly followed suit, with a strong performances by Ashley Blake at IRONMAN Texas, Justin Mazzone at the Portsmouth Half Marathon, and Tom Frost at the Wentworth Duathlon.
At the Presidential Seaside Duathlon, Mike Mazzola took 5th place in his age group, and Stephanie Vore Apple 1st place in hers!
Dan McCombs, David DePiano, and Kevin Gray (finishing respectively) took 3 of the top spots at the Fight Cancer 10K.
Paul Rolanti ran the MMRF Boston 5K while Lee Ann Marchionna ran the Earth Rock Run Half Marathon.
Randy Clark and Stacy Sweetser raced the St. Anthony's Tri in St Petersburg, Florida, with Stacy making the top 5 in the open category!
This year, Trimania officially became Racemania to encompass a broader range of athletes. As always, it included a packed day with no shortage of interesting seminars, clinics, and workshops, as well as an expo full of information and gear.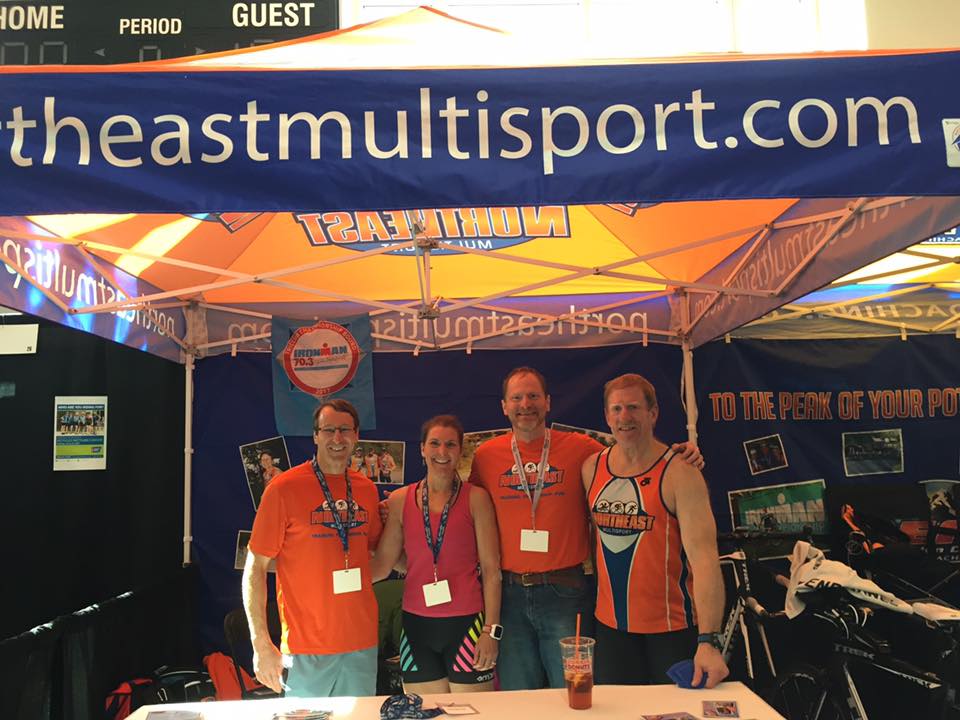 The day features a friendly competition at the indoor triathlon. Teams of 12 tackled the 4 x 1600m dash on the indoor track, the 10K indoor time trial on the computrainer, and 4 x 200 yard swim in the pool.
Northeast Multisport had 3 teams competing: the Orange, Blue, and White teams! The event results can be found here.
The day gives team members the chance to catch up with each other, get caught up on the latest trends in the triathlon world, and get motivated for the season ahead!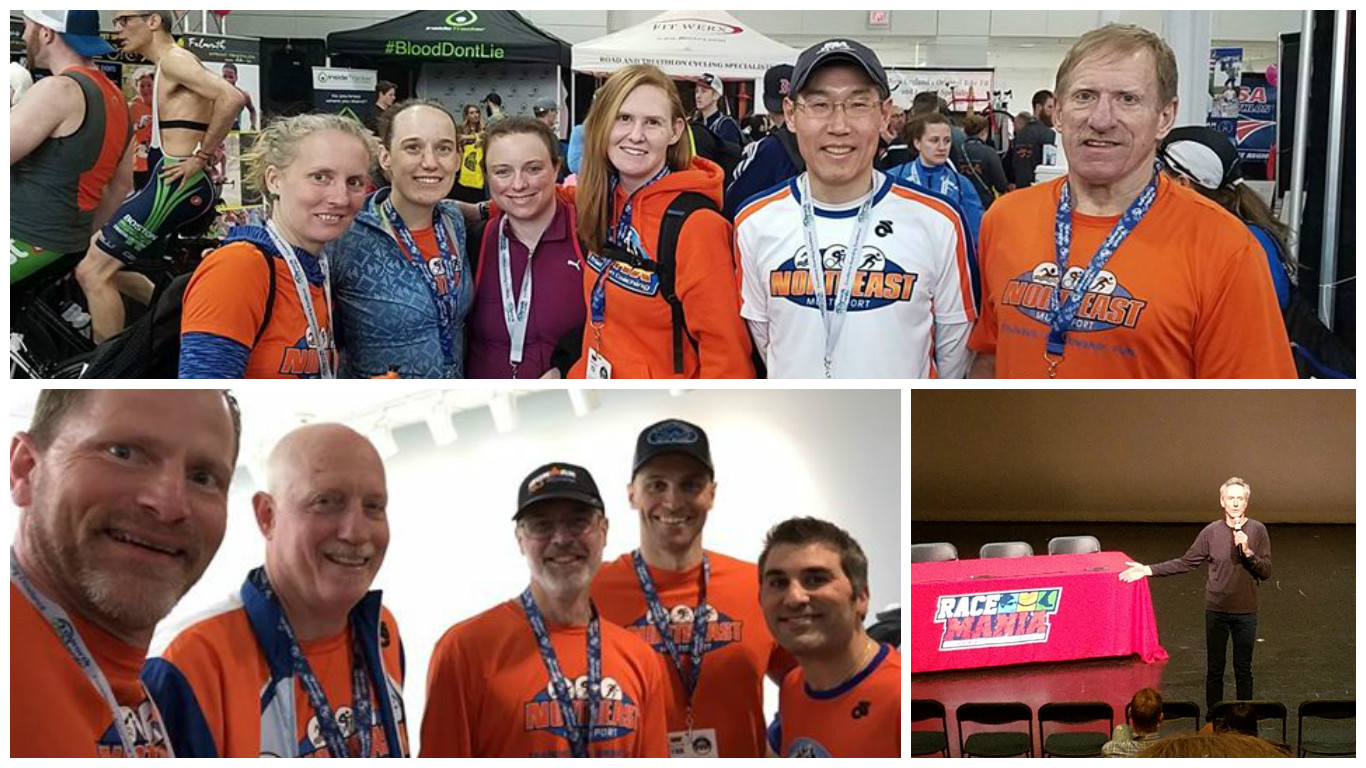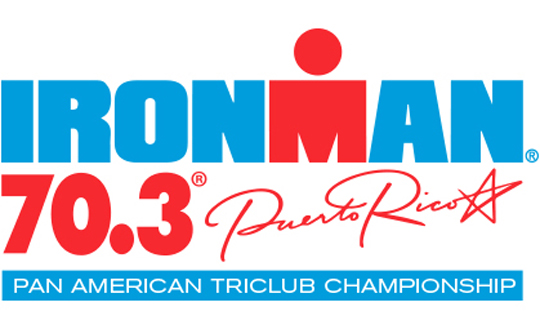 At Florida 70.3 (and again at Timberman 70.3) in 2016, Northeast Multisport members qualified for the Ironman Triclub Championships at IRONMAN 70.3 Puerto Rico.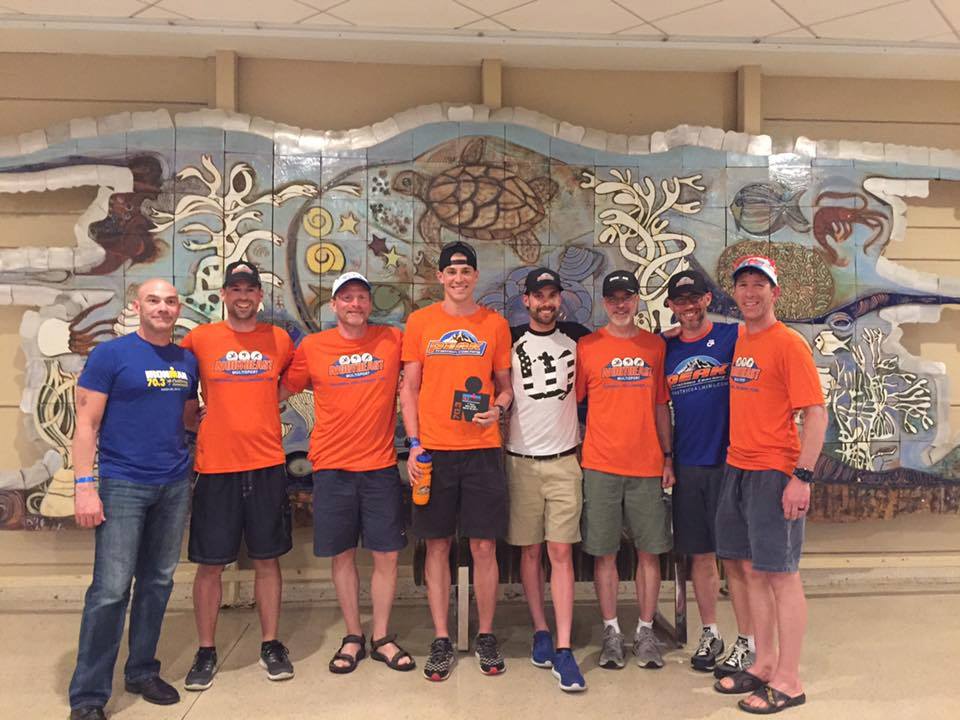 9 members took on the course, including Lucas Pozzetta, Colin Cook, Tom Frost, Chris Veilleux, Bill Caldwell, Larry Rodman, Rick Bolling, Jim Harris, and Colin Cook in San Juan. From the 1.2 swim through the Condado Lagoon, to the 56 mile bike to Dorado, and the two loops of the 13.1 mile run through the islet, the course offered participants picturesque views throughout.
Despite the brutal heat and strong winds, Northeast Multisport members came in 5th place for the division! The full results can be found here.  A special congrats to Colin Cook for winning the 35-39 age group and being the 2nd overall amateur and to Rick Bolling for taking 7th in his age group.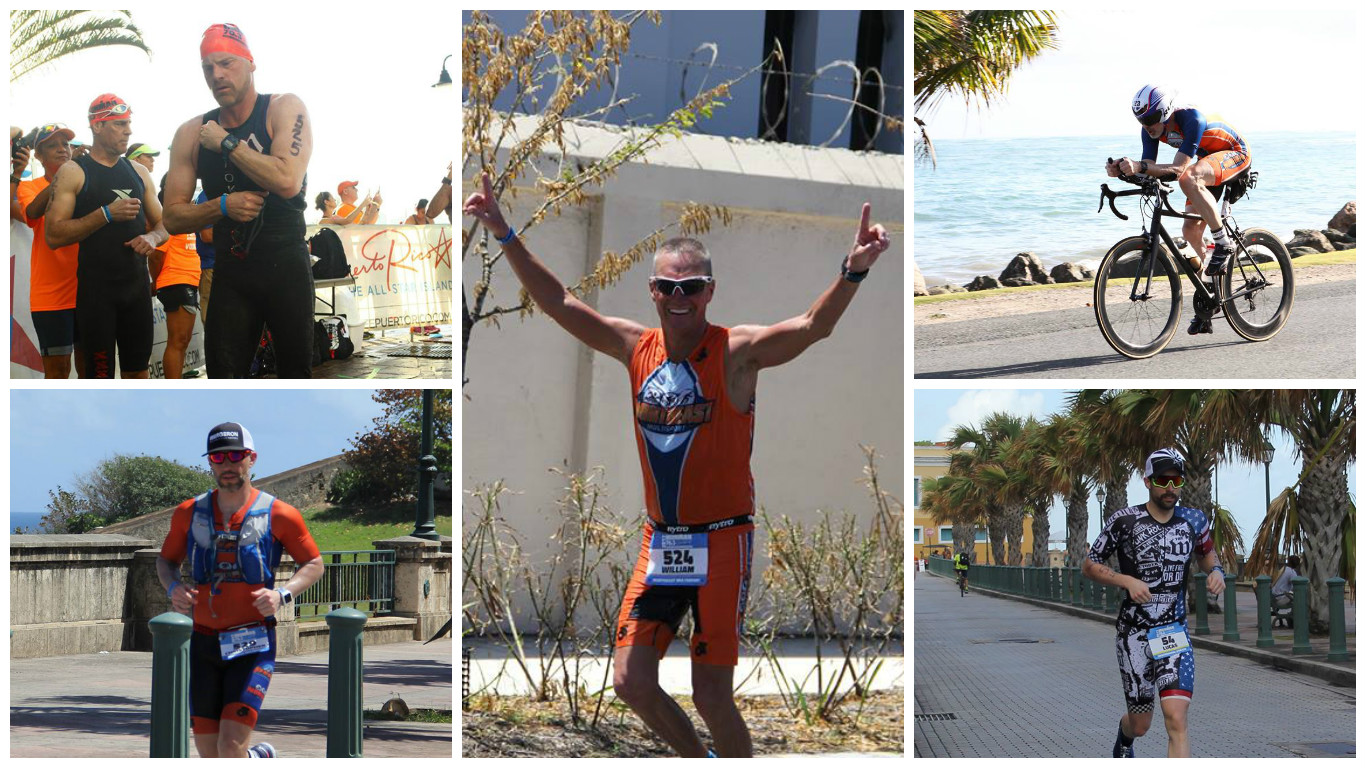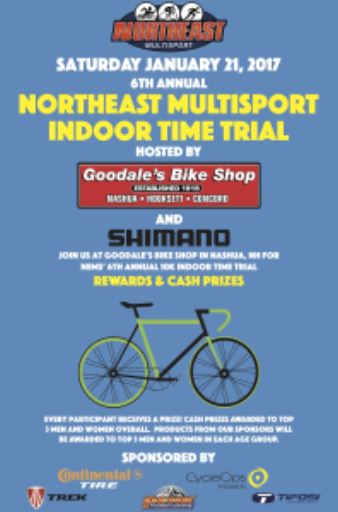 The 2017 Northeast Multisport Indoor Time Trial at Goodale's Bike Shop in Nashua was another success!
This year was the 6th year for the time trial. Heats of up to 8 riders took to CompuTrainers to compete on the 10K rolling terrain course.
Congratulations to all of the winners, the full results can be found here.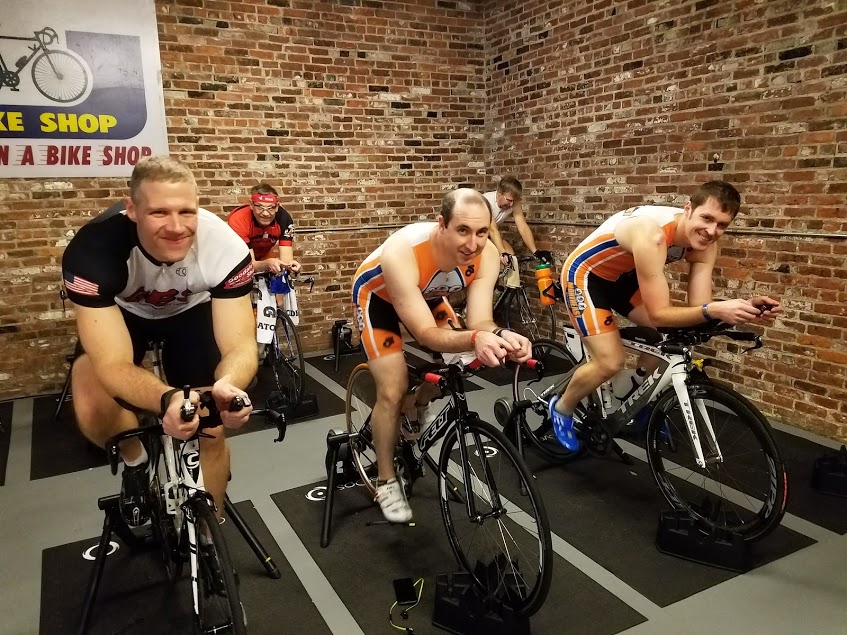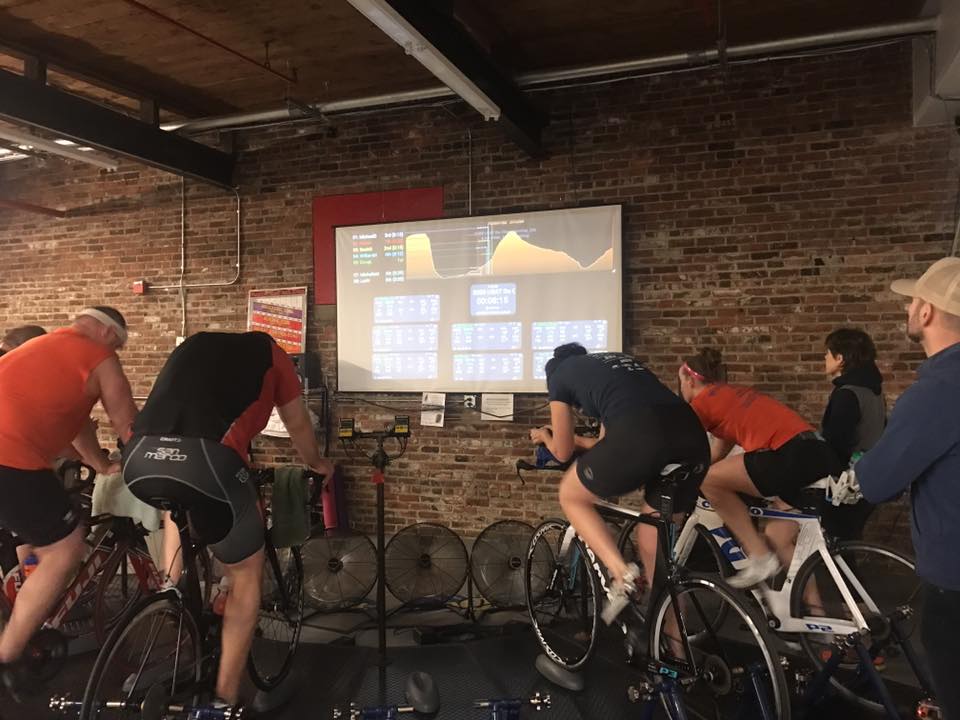 As could be expected, NEMS had a huge end to the season in October and November! Members packed in the events.
Among the events at home members took on the Baystate, Loco, Manchester City, and Smuttynose courses, while others traveled to the Marine Corps and Philadelphia Marathons.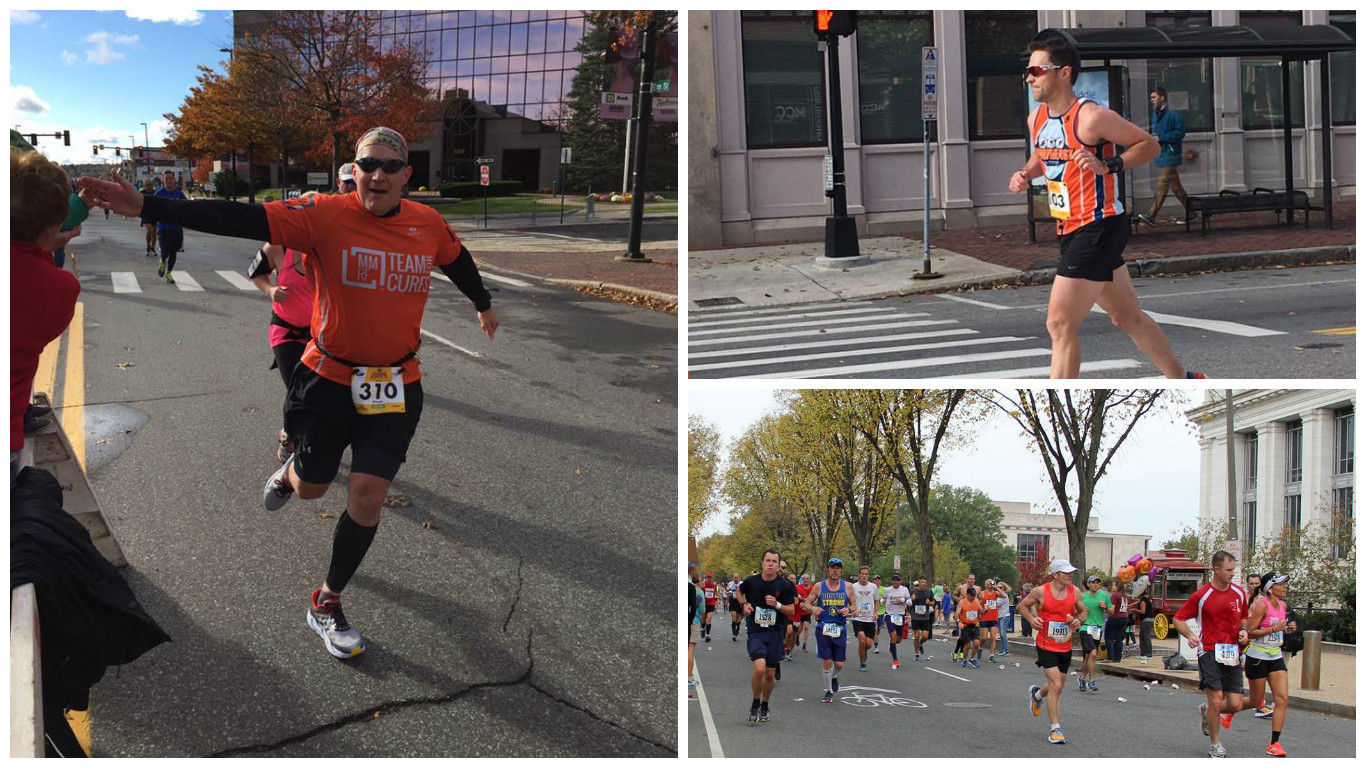 NEMS members also represented at events across the country: Ironman Arizona, Ironman Louisville, Ironman Maryland, Ironman North Carolina. Check out our member's recap of the Louisville race!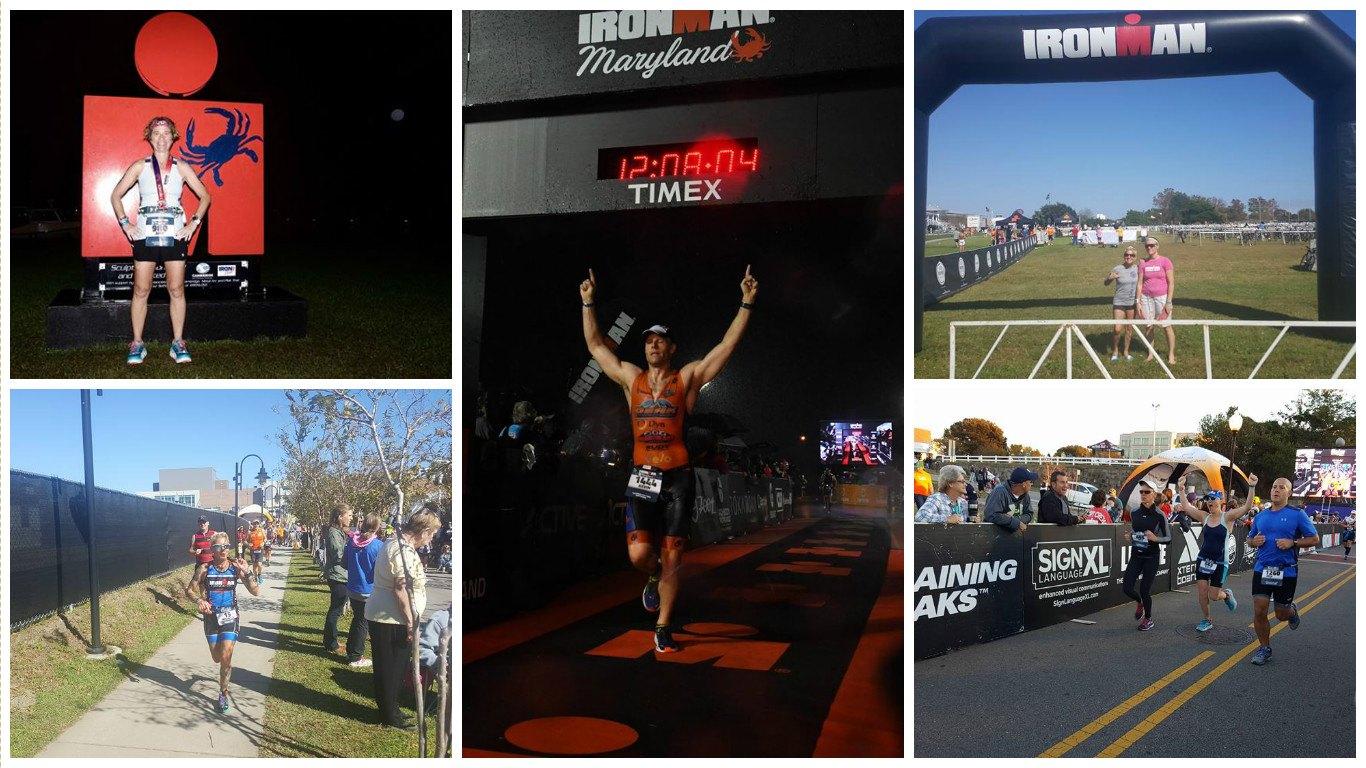 3 of our members even qualified for and raced in the 2016 Ironman World Champion at Kona! Huge congratulations to Colin Cook, Jim Piper, and Randy Clark for such inspirational accomplishments! You can read Colin's full Kona race report here.
Of course, somewhere in there, members did find time to come together for the end of year party to celebrate the 2016 season. How strange it is too see each other in non-workout clothes!?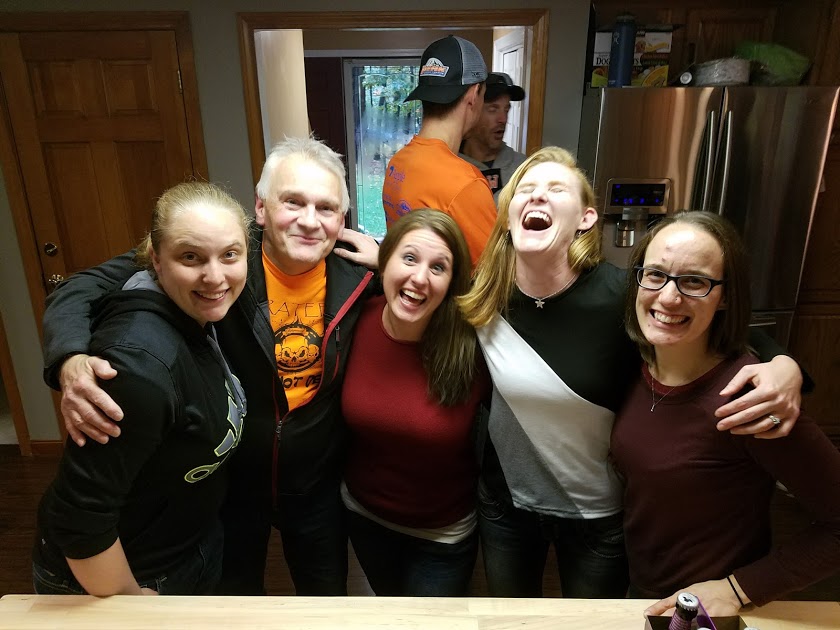 NEMS members didn't slow down for September!
This year the Pumpkinman Sprint and 70.3 faced crazy weather in Berwick, Maine! Given the weather, the race course had to be shortened for the 70.3. Read our member's full report of the day here.
September is also the month of Reach the Beach, the relay race that covers 203 miles across New Hampshire, from Bretton Woods to Hampton Beach. Many Northeast Multisport members participated on several teams.
The month also saw the Pitch Pine Challenge and Lakes Region Sprint and Olympic distance triathlons in New Hampshire.
And our very own Stacy Sweetser took third at the ITU Sprint Triathlon World Championships in Cozumel Mexico!
Members also represented at both Ironman Atlantic City 70.3 in and Ironman Chattanooga. September was a busy month indeed!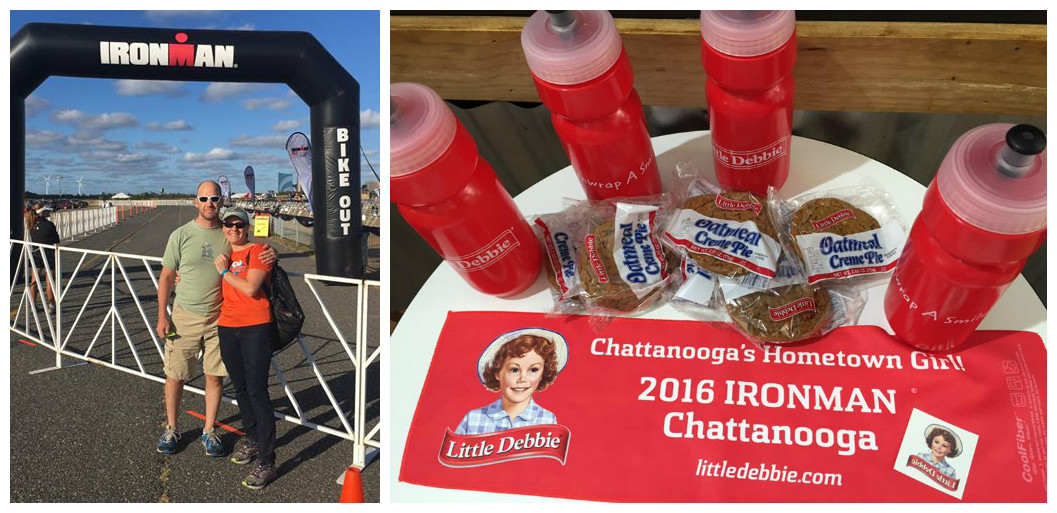 Over the course of the 2016 summer many Northeast Multisport members had the opportunity to take part in one of the NEMS/Peak Triathlon Coaching Ironman training camps.
These camps are an opportunity to train on an Ironman course and surrounding area. Each camp is timed as preparation for the race. Athletes have the chance to train with likeminded athletes and pick the brains of the coaches at the camp. Some participants are training for the full 140.6, while others are familiarizing themselves with the course. The weekends are filled with great training and relaxation. Not to mention, plenty of fun memories!
This year included…
Ironman Lake Placid
June 23rd-26th: Lake Placid, NY
Ironman Mont Tremblant
July 28th-31st: Mont Tremblant, Québec
Ironman Maryland
September 8th-11th: Cambridge, Maryland
August was another very busy month for NEMS, including two major races both on August 21st!
Nearly 30 Northeast Multisport members took on the Timberman 70.3 course in Gilford, NH! With so many familiar faces on the course it was uplifting to hear so many cheers while racing. With such a strong showing and outstanding performances, Northeast Multisport won 1st place in the Division IV Ironman Triclub Program! NEMS also had the second high number of points overall for the event.
Many members raced with Make-A-Wish, raising almost $20,000, enough to grant wishes to 2 children facing life threatening illnesses. Those Wish Racers also had the opportunity to have a meet and greet with professional female triathlete Mirinda "Rinny" Carfrae on the Saturday before. Ironman featured the visit in their article!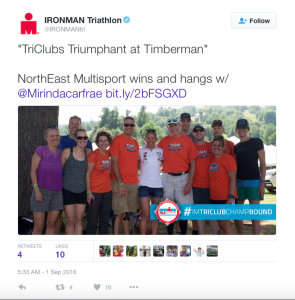 Meanwhile in Mont Tremblant, Québec, 9 NEMS members tackled the 140.6 course, in the rain! The day was long and the rain certainly posed a challenge, but that did not stop these racers from putting their all out on the course and having a good race. A few familiar faces were even featured in the 2016 Mont Tremblant video!
We had two members racing at the Age Group Nationals in Omaha Nebraska on August 13-14, congratulations to both for making NEMS proud!
The Cranberry Trifest Sprint and Olympic races took place in Lakeville, Massachusetts on August 20th and 21st. And the REV3 Triathlon at Old Orchard Beach, Maine.
Check out our featured member Timberman 70.3 race recap here!
July held plenty of training and racing for Northeast Multisport members!
The month kicked off with a fun run on July 1st, the Millennium Red, White, and Brews Beer Relay. Taking place at the New Hampshire Motor Speedway in Loudon, the event featured relay teams of 4 people racing 1 mile each after drinking a can of beer (or soda)! A dozen team members enjoyed the festive atmosphere.
On July 10th, 22 NEMS members raced the Olympic distance triathlon at Mass State in Winchendon, Massachusetts. The course was packed with familiar faces, and the finish line was full of high fives. Many great performances on the course and even a beer tent to celebrate with teammates at the end of a good race!
On July 24th 6 NEMSers took on the full 140.6 at Ironman Lake Placid in NY, even claiming a 4th place finish in the male 25-29 age group! Congratulations Steve!
On July 23rd a group got together at Ellacoya State Park to do a recon ride of the 56 mile Timberman 70.3 bike course. Both veterans and first timers had a good time getting more practice or familiarizing themselves with the course.
Lucas Pozzetta had the first win of his professional career at the Boston Triathlon on July 31st. Congratulations Lucas!
Overall July 2016 was a packed and successful month for Northeast Multisport!
Check out our featured member race recap of Lake Placid 140.6 here!