Max Performance's Season Opener Triathlon in Hopkinton, Ma marked the start of the 2013 race season for several NEMS athletes, and it looks like it's going to be a great one! A day that started off dreary and rainy ended with a many new faces joining the ranks of NEMS podium finishers. Club President and 2nd place overall finisher, Colin Cook, summed the experience up nicely,
With the tough New England winters (especially this past one) sometimes its easy to forget how ?terrific race day is. Seeing so much orange and blue out their on the course and everyone cheering and routing on their teammates as they passed one another, it's days like today that really help justify all the sacrifices we make as triathletes.
Here are just a few of the highlights from the race:
• NEMS athletes took the 2nd through 4th overall spots in the race, including one of our newest members, Lucas Pozzetta, who finished in 3rd, a mere 8 seconds behind Colin.
• Nate Thomas finished in 4th place with the top overall bike split of the day. This is hardly out of the ordinary for Nate, but what makes this race remarkable is that he did it on a bike he was forced to borrow last-minute.
• Zuzka Trnovcova was the 4th female finisher, debuting her new bike setup from
The Velo Resource
.
• Jim Petersen, Sarah Wilson, Beth Birket, and Dave Dishaw all claimed age group podium spots.
• Ryan L'Italien, competing in just the second triathlon, used this race as a tune-up for a season that will include his first Olympic distance tri and first 70.3. Go get 'em, Ryan! We love to see this kind of ambition.
Here's to many more great races for NEMS this year! Cheers!
Last year, it was cold, windy, and even a little snowy as we cranked the Kanc. This year, not so much. The sun was out, winds were gentle, and spirits were high as a group of NEMS and Team S2 riders headed out of Loon Mountain for our annual trek up and over Kancamagus Pass.

Since this is an out and back course, riders were able to easily set their own speeds and distances. The largest group ended up covering about 80 miles and climbing over the pass twice. And, just to validate the "multisport" part of our name, several of us tacked short runs onto the end of our rides. Then it was time for some serious calorie replacement before we headed out of Lincoln, NH.
Whether you bike a little or a lot over the winter, this annual ride is a great way to shake the rust off and gauge your fitness heading into the early part of the racing season. All abilities are welcome, and all rides come with awesome views. Make plans now to join us next year and crank the Kanc for yourself.
NorthEast MultiSport hosted their annual Indoor Time Trial at Goodale's Bike Shop in Nashua, NH on January 26th. In its second year, the race drew nearly 100 local athletes eager to test their mid-winter cycling legs. Heats were held throughout the morning and well into the afternoon as groups of 12 riders mounted CompuTrainers to battle each other and the clock for 6.6 sweaty miles.
While the racing was virtual, the competition was anything but. Dean Philips knocked off last year's defending champion, Greg Larkin, to take top honors. NEMS own Nate Thomas finished 2nd overall, and NH pro triathlete Ryan Kelly took 3rd place.
On the women's side, last year's champion, Jana Richtrova, held off the field to earn another 1st-place finish. Blue Steel's Stacy Sweetser and pro triathlete Amber Fereira rounded out the podium.
Top finishers received cash prizes, while age group winners went home with prizes and merchandise supplied by our race sponsors, including Tifosi glasses, Torhans areo bottles, Profile Designs areo bars, Continental race tires, and much more.
On Saturday, October 13, Colin Cook competed in the Ironman World Championships in Kailua-Kona, Hawaii. Colin qualified at the Ironman World Championships in New York City back in August and was the first NEMS member to qualify and compete in the world championships. The hot temperatures and heavy winds make this a very challenging course, but Cook was tremendously honored to have the change to compete again the best in the world. Here are some pictures and some video from the day:
EMBED CODE
Congrats Colin!!!


On September 9th, Nate Thomas competed in the 70.3 World Championships in Henderson, NV. Here' s hows the day of racing played out in his own words.
Having qualified for the race at the Mt. Tremblant 70.3 in June, I had a hard time preparing for a race with temperatures that approached 100 degrees. I had a below average swim, coming out of 84-degree Lake Las Vegas near the back of my AG in 38 minutes. I used my strength on the bike to move up 79 places in my AG, and finished the bike in 2:31. The bike course had nearly 4,000 ft of climbing, and temperatures were in the mid 90′s by the time I began his run. Similar to the bike course, the run course was very hilly, and was comprised of three loops. I salvaged a decent run, in conditions that slowed many of the racers down, finishing with a run time of 1:36, and a total time of 4:52. My time was good enough for 47th in my AG and 199th overall. I was the 147th amateur to cross the finish line.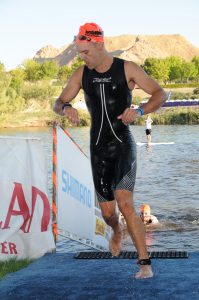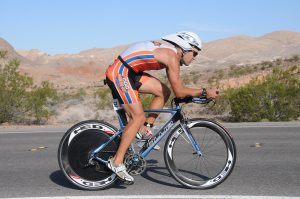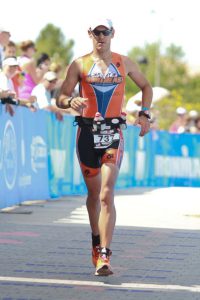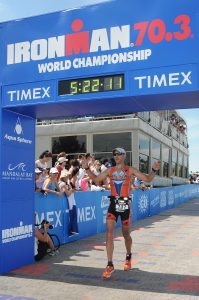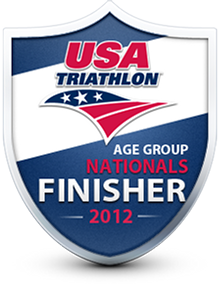 On the weekend of August 18th and 19th, nine members of NEMS and their families headed to Burlington, VT to match up against the best amateur triathletes in the country at the USAT Age Group National Championship. The weekend consisted of an olympic distance race on Saturday and a sprint race on Sunday. In order to participate, all racers had to qualify by finishing at or near the top of their age groups at a race in the past year. This made for some serious competition and fast finishes throughout the field.
Olympic distance racers Colin Cook, Nate Thomas, Brent Osborn, Richard Hostler, Kris Homoleski, and Jim Petersen, arrived in Burlington on Friday to register and rack their bikes. With all bikes tucked away in transition until the morning, it was time for a pre-race pasta dinner at Uno's, where the conversation quickly centered around the poster-sized sheet of bike, helmet, bag and body numbers we all received at registration. Then it was off to bed to rest up for the morning.
The sunrise was beautiful, but the wind that came with it was not so welcome. Saturday's race started with a rough swim through the choppy water of Lake Champlain. That accomplished, it was on to the closed bike course that included rolling hills and a section of Interstate 189, a course that Nate demolished with a blistering time of 1:00:46. The final leg of the race started with a run up a short but very steep hill before flattening out for a fast 10K.
Sunday was much cooler and calmer than Saturday's start and sprint racers Nancy Epstein, Jay Francis, and Chris Poulos took advantage by starting off with fast swims. The bike leg took a totally different course from Staurday's race, sending racers on a tour of the north end of Burlington and over another section of closed highway. The run started with the same punishing hill the olympic racers climbed and then leveled off, paving the way for some fast finishes.
NEMS was represented well both days, but the performance of the weekend goes to Chris for his 1:05:56 sprint race. This finish was fast enough to earn 8th place in his age group and qualify him for the World Championship in London. Way to go, Chris!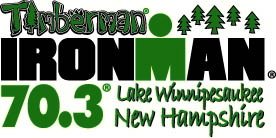 August 18th and 19th marked the latest running of the Timberman 70.3 and Timberman Sprint triathlons in Gilford, NH. Centered around Ellacoya State Park and the Gunstock Ski Resort, these races are known throughout New England for beautiful scenery and punishing hills. Given the challenging nature of the bike leg, especially the 70.3 course, these aren't the races most people take on as a first-time challenge or use as a launchpad to a PR, yet that's exactly what our NEMS racers did.
Saturday, the morning of the sprint race, started off dark and rainy. And while other racers were looking for ways to wake up and get the blood flowing, Bryan Lemire's wake-up call came to him. Here's the story in his own words:
I arrived at 4:30 this morning and needed to use the port-o-potty. As I'm in there I hear a diesel engine getting closer and closer to me. It then sounded very close to me and suddenly I felt the entire port-o-potty shake. I immediately tried to open the door but couldn't open it more than two or three inches. I was trapped inside by a forklift. At this point I'm yelling and pounding on the door. After a couple seconds I hear the beeping of the backup warning and I'm finally able to open the door. That certainly got me wired for race time!  I read the driver the riot act though…
Fortunately, the rain stopped before the gun, but the roads remained wet. After a swim in the clear water of Lake Winnipesaukee, and a hilly ride on country roads, racers were treated to a run that is slightly uphill out to the 1.5-mile turnaround and a corresponding downhill to the finish that's tailor made for negative splits.
In addition to Bryan, NEMS was represented by Larry Rodman, Frank Mulcahy (set a PR), and Michelle Poublon (1st place in her age group).
Sunday morning saw 1700 athletes return to Ellacoya State Park for the 70.3 race. The air was filled with nervous electricity before the start, especially for NEMS members Tom Frost and Craig Stoller, both taking on their first 70.3 race. Here's how the day unfolded in their own words.
Tom—1st Half Ironman after just starting triathlons this year. Thought I was in great shape to hit my sub-six hour target through the bike. Got off the bike and my back seized up on me and I could not stretch it out. Ran entire half marathon in a great deal of back pain and finished with a 6:15 time.

Good News?  I finished the most trying physical event of my life and signed up for a full Ironman (Mont-Tremblant, Quebec) in 2013.
Craig—This was only my 2nd Triathlon and my 1st half.  I learned a lot in this race and planning on running a lot more Triathlons next year. I have been swimming for 4 months, biking for two years, and running for 38 years (first marathon at age 13).

The Timberman is a great race and would recommend it but make sure you have done hill training on the bike.  Before the start of the swim was fun talking to other competitors and was amazing to watch the Pros start the swim.  Was in the 4th wave and very interesting swimming is such big packs but did survive and swam at my goal.  The bike was much more crowded then I had thought would be for 56 miles and at some points forced to ride in packs.  It was fun that would be going back and forth with passing of the same people and got to know some.  For one person it got to the point that when we passed  we would say  "tag your it" when passing.  Around mile 48 had a big downhill going 48 to 49 miles an hour (what a rush).  Was not happy at the end of the bike as last part had to go single file, no passing, which was OK as most going the same speed; but just as going into the no passing zone one to the riders ahead got a flat.  The rider continued to ride but slowed way down and would not let us pass.   In the transition had to run a maze before getting to the official start of the run.  Being a marathoner did well on the run but wanted to do better.

I was happy with my first half Iron Man finishing 24 in my division (Mens 50 to 54) of time 5:41:38.  I learned a lot in this race and will crush this time next year.
First-time 70.3 finishes are reason for celebration, but what do you do when you've already raced a half-iron and spent all summer training like mad? Tear ass through the hills and set a PR. That's exactly what Chris Veilleux did, besting his previous best 70.3 time by more than 8 minutes and showing that he's well on his way to finishing his first 140.6 at Ironman Lake Placid next summer. Way to go, Chris!
Rounding out the impressive day for the club was Mikael Taveniku, who powered through the hilly bike course in just 2:45 en route to a strong finish. All around, it was a good day and a great weekend for NEMS. Keep it up, team!
My first triathlon was in 2009 – The Buzzards Bay Sprint.   Most people are intimidated by the swim portion when considering a triathlon.  My fear was the dreaded run.  I've been told in the past that I run like a duck and admittedly see some truth to that – haha.  I wasn't fast in the water but being the true Aquarian that I am, I've always felt comfortable in it.  I did the entire swim portion via sidestroke without a wetsuit.  The biking felt natural and the run wasn't the death march that I envisioned it to be. After that positive experience, I decided to continue racing in triathlons along with a few 5k's here and there.  The 2010 & 2011 season included a handful of races.
This year I wanted to take it more seriously, so I decided to work with Colin Cook.  My big goal for the year was to run a marathon simply because I never   "loved" running.  I thought it would be good for me to step outside of my box and focus on a new challenge.  After I signed up for the Smutty nose in September, I found myself surfing the web looking for a few other events.  A "few" turned into a total of 11 races. That was the start of my commitment for this year and I was excited about it!   An early calf injury has made the running more of a challenge, but I think we have it under control!
This is officially my first race report.  I've included two of my favorite races from this season.  I selected a destination race for my big event because I have a love for traveling.  At first, my eyeballs were wide open at the sight of 70.3 Zurich, and then I came back down to earth and realized that an Olympic distance state side was more realistic for me this year.  My first favorite race selection was The Golden Gate Triathlon – Olympic distance.  My second was motivated by my love for the neglected mountain bike – X-terra Stoaked off road sprint distance.  I'll start with the most recent: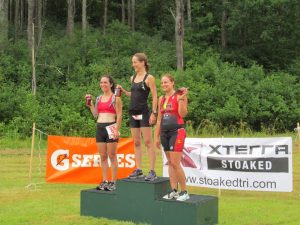 X-TERRA – Stoaked off road triathlon sprint distance – Hanover NH –August 11th, 2012
(.5 mile swim – 10K mountain bike – 4K trail run)
I slept like a log Friday night and took advantage of sleeping in until 7am. The sprint did not start until 1pm.  After eating my typical pre-race breakfast and packing up my things I headed up to Hanover. I had ½ of a peanut butter sandwich and banana on the ride up.  I arrived at 11am with plenty of time to check in, look at the swim area, set up my T area, meet up with friends and get settled in without a rush.  I decided not to use T2 at the swim exit for extra shoes as it made more sense to run barefoot to T1.
SWIM – I watched the end of the morning trail race before heading down to the swim start at 12:30, went for a quick warm up swim, took my gu and moved over to the pre-race meeting.  I was feeling good, awake and relaxed.  I positioned myself toward the front right side. The swim was out and back. It started with a kick in the face but luckily my goggles stayed on!  I continued my swim at a steady pace while saving some steam for the immediate hills on the bike portion.  My swim exit left me feeling good and I proceeded to run the 500 yards through the camp ground and up the hill to get my bike.
BIKE – T went smooth and off I went. The immediate climbs did not leave much room for easing into the ride.  It was a hot- humid day. My HR was pretty high pushing up the first hill. It was a slow grind. I passed one rider on the way up then turned the corner up another hill. There was a cluster of people in front of me.  The person directly in front of me abruptly stopped, forcing me to unclip and hike the bike up the hill around them.   Most were learning that this approach was faster than getting stuck in the bottleneck climbing up a narrow path.  I was drinking gu brew out of my camelbak for hydration and stopped quickly to take a gel approx. ½ way through the ride.  I was pretty winded and struggling to breathe normally.  The course continued to roll up with some flat areas in between before getting into a technical section.   (At the start, I figured it would be the lesser of the two evils to have a little extra air in my tires, thinking I would be less likely to get a flat.) I quickly realized that I probably should have thought about that a bit more in addition to spending more time training on technical trails! Oh well – too late for this race.  My rusty bike control and wet trail conditions caused me to fishtail over several roots and eat it 3x.  At that point I thought it would be wise to hike the bike again over some of it before I injured myself. That would have put a major kink in my marathon efforts!  I was pretty frustrated, which wasn't helping my focus.  A few people passed me and there were a lot of screeching brake sounds coming up from behind so I got up and kept moving.   After getting through that slip and slide it was not far to the best part – The downhill!  My focus at that point was not my HR, nutrition, time that I lost, how many people were behind me. It was simpler than that:  RIDE HARD – DON'T CRASH! The downhill was a fast single track leading into a wider x- country trail back down to the field.  On the ride down a big smile appeared on my face because it was super FUN!
RUN – T went good. I grabbed my water, took my last gu and ran out fairly hard knowing that I lost some time on the bike portion.   I slowed down going up the first hill as I was not feeling great at that point.  The remainder of the course rolled up and down around the pond – through a field – back down to the swim start and back up to the finish at T1. I slowed down to a walk up a couple of the hills then kept a slow but steady pace. When I approached the last ½ mile I pushed harder and back up the hill to the finish.
Not really knowing what to expect from this course, I set a finish goal at 2:00. I finished in 1:53:26. The swim was my best leg with a time of 14:50.  It was a fun race with great people in a laid back atmosphere.  The end result was a very surprising first place age group finish, a jar of maple syrup, winning raffle ticket and another positive race experience!
Golden Gate Triathlon – San Francisco California June 24th 2012
(.93 mile swim – 25.82 mile bike – 6.17 mile run)
The week leading up to my race was hectic.  I was also diagnosed with tendonitis, which was a result of me changing my gait during the Y tri. (Babying the calf)   I was given two treatments at PT and skipped my remaining run workouts.   I unfortunately did not get the extra sleep that I was planning on that week.  I left for San Fran on Friday June 22nd at 3:30 am. The race was on Sunday. Luckily, I was able to sleep on the flight. My flight arrived on time and I went directly to my hotel.  I spent Friday afternoon and Saturday testing out the rental bike, attending a luncheon for the charity that I raised money for, and checking out part of the course.
It was a perfect sunny weekend.  I was very excited to be there and I was on vacation!  I chatted with a few locals about the race:
1.                  The guy at the front desk of the hotel – "The rip tide is really bad this year with El Nino"
2.                  A local rider that I asked for directions during my test ride – "yeah, that swim is gonna suck"
3.                  The dude at packet pick up – "water temp 50 degrees". (I checked NOAA the week before and it was a bit warmer!) My biggest fear with the swim in this race was the water temp as it puts a kink in my breathing (asthma)
4.                  The cab driver – as he laughed he told me "they've been having issues with the seals in the bay nipping at surfers / swimmers."
Alrighty then! I was ready!
I took a cab to meet up with some friends for an early 5:30 dinner on Saturday night.  They made reservations at the Slanted Door (Vietnamese fusion). It was Pride Weekend in San Francisco. The traffic was insane. I started to wonder how late of a night it was going to end up being.  I watched my friends feast on yummy food and wine while I selected chicken, jasmine rice and pineapple juice just to be on the safe side.  I really wanted the spicy vegetable rolls and some other unique menu items!  We left the restaurant and 8pm and there was not an empty cab in sight!  The last thing that I wanted to do was hoof it in flip flops from the Embarcadero Pier back to the Presidio. I saw a cab coming and like a lunatic I jumped in the road with arms flailing!  The Cab stopped so I gave my friends power hugs and hopped in.  I made it back to the hotel about 9pm so I could sleep!  Yeah right, I was nervous Nelly. I slept on and off for about 6 hours.
My alarm went off at 4am, I grabbed my backpack, my bike and rode the 2 miles through the dark streets, along the ocean and over to T2 at the warming hut.  I set up my run gear with a flashlight, rode back to T1 to set up the rest of my gear, made some new friends, and checked out the water. The sun was starting to rise. The water temp was 56 degrees. The dude at packet pick up was off by a few degrees in the right direction!  My wave started at 6:45. I was all bundled up with wetsuit, swim socks and neoprene cap ready for my swim. I took my gu then dove into the water to get the shock over with.
It was a triangular course x2 laps. The first leg of the swim was directly facing the sunrise. There were 3 yellow buoys which were extremely hard to see. Everyone was standing on shore trying to see where the heck they were going.  My wave was the 2nd to enter the water. The woman standing next to me said "this is good that we are the 2nd wave because we'll see which way wave #1 drift".  After wave 1 entered the water, I remember her saying "wow, they're drifting really quickly to the left!" We sort of became like a pack of huddled football players.  "Let's swim toward the mooring on the right, knowing we'd likely get carried to buoy 1" – "ok, got it! "
SWIM – My goggles fogged up then we were off!  Seeing was a challenge from the get go. I started off slow and steady swimming as planned toward the mooring, which was right of buoy 1.  I approached the buoy and immediately started feeling like NEMO…..swimming but not going anywhere.  I was expecting a current as we were in San Francisco bay after all but I was not expecting it to be that strong. I looked up to find a few swimmers holding onto the buoy.  I would guess that I was in the water approximately 5 – 6 minutes at that point. The 2nd wave caught up to us and it became a small cluster of turbulence at buoy 1.   In my mind at this time I was thinking "how the heck am I going to swim two laps in this before the cut off time, oh crap". I really did not want to quit so I started swimming harder, became stuck in between a few people and looked up treading water for a moment. The guy next to me was doing the same thing. We kind of chuckled and said "we are not going anywhere".   A handful of people pushed forward in a straight line parallel to the shore so I started following them.  Not too long after that, we were getting waved into shore and a few were picked up in the boat. They cancelled the swim portion of the race.  It was bittersweet.  I loved the excitement of it in an adrenaline rush kind of way.  However,  I would have been really bummed out if I missed the cut off and lost my chance to complete the bike portion and run over the golden gate bridge. I was glad that we had the opportunity to give the swim a fair shot before they cancelled it.
BIKE – The time picked up again when you left T area on your bike. My hands were cold getting out of the water. My body was not warmed up as the swim was so short. I broke the strap on my Garmin trying to pull it with numb fingers so I was unable to use it for tracking my HR.  The plan was to stay in z3 for the entire ride.  It was a hilly course compared to what I was used to riding with a total elevation gain of 2919 feet.  Long climb up – down through Baker beach parking lot -  long climb back up -  fast down with sharp left hand turn and winding small road to the parking lot at the T area – turn around x 6 laps. I felt great on the bike ride with exception of a slight pain in my left knee.   I guessed at my HR and stayed in what felt like z3 – took 2 gels and drank all of my water.  This is when I realized that all of the training really paid off because I felt good even with no sleep and jet lag! I passed a handful of riders on the way up. Several passed me on the way down. By the 4th lap I became more comfortable with the road and turns so I increased my speed on the downhill.
RUN – T went well.  I took a gu and felt pretty good at the start of the run around the park. From there we ran past the T area and toward the bridge. My left knee was still a little sore which caused me to start running like a duck again.  I tried to concentrate on my form and just took it easy. I ran around the corner and what a lovely surprise!  Stairs!   148 of them (I counted them on the way up). After the stair climb, I entered the Golden Gate Bridge.  I was still taking it easy at this point, enjoying the breeze off the water and loving the magnificent view on a sunny clear day while keeping a steady pace.  At the end of the bridge you turned around in Marin and ran back over. I tried to pick up my pace a bit at this point as I knew I was on the home stretch. Then I hit the tourist trap. I've never had to dodge tourists in a race before . This was a first! Luckily, I was not running fast enough to have any casualties. I proceeded to the end of the bridge, back down the 148 steps, and through the tunnel. Once I hit the dirt path, I pushed it to the finish line!
Swim – 0 – Bike – 2:09:14       Run – 1:09:56
My finish time was a bit slower than I was shooting for but I did not come in last, I had an awesome time and I learned where I can push myself harder.  Another positive race experience!
On Saturday, August 11th, Chris Kaminaris and Colin Cook competed in the inaugural Ironman US Championship that took place in New York City/New Jersey.  Despite some complications with the water that nearly caused the swim to be canceled and some pretty crazy logistics for a race in such a big city, the race went off as scheduled. The course started with a 2.4 swim in the Hudson river, followed by a 112 mile ride mostly on the Palisades Parkway, and then a 26.2 mile run that ended in Manhattan, but included a trip across the George Washington bridge.
Chris really took advantage of current in the swim to start his day off with a very fast 53:27 swim.  After that, Chris stayed disciplined on the bike and had a respectable bike split of 6:59:26 on the consistent rolling hills of the Palisades Parkway.  Chris then maintained a very steady pace during throughout the very challenging run course to finish his marathon in 5:18:59,  allowing him to complete his first Ironman in 13:35:10.  Way to go Chris!  YOU ARE AN IRONMAN!!!  Here is a picture of Chris crossing the finish line: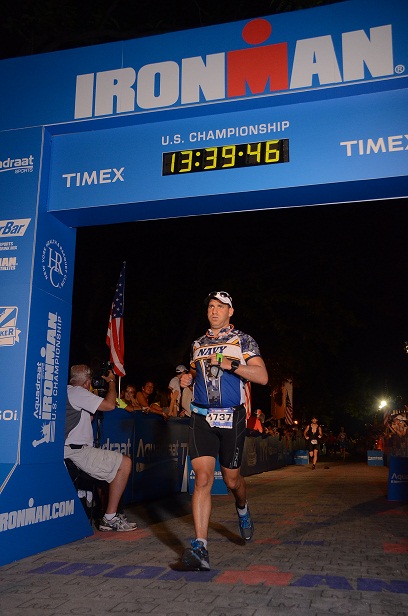 Colin Cook had a very big day as well.  Colin also advantage of the current during the swim to come out of the water in 45:42.  Colin then stayed very disciplined on the bike finishing the 112 mile ride in 5:26:17.  Colin then completed the 5th fastest marathon in his age group of 3:30:57 on the very hill run course to complete his 5th Ironman in a total time of 9:48:07.  Colin ended up as the 25th overall age grouper of the nearly 2500 participants and earned a qualification into the Ironman World Championships in Kailua-Kona, Hawaii on October 12, 2012.  Here is some video of Colin heading down the finisher chute:
Outstanding job guys!!!
2012 MascomaMan Half-Ironman race report by Greg Indruk
-As luck would have it, I came down with a cold the sunday before the race (less than one week out). As a result I took the entire week leading up to the race completely off. I figured I would call my participation in the race on Friday (the day before the race).
-Friday came and I decided I would NOT do the race. I figured it would do more harm than good.
-By Friday afternoon I started to feel a little better, but still did not think I would race. I did, however, decide to drive up the night before with Chris P to cheer him and Zuzka on in the morning. I brought most of my stuff…just in case; however I left my wetsuit at home, since the water temp was 80 (over the cutoff for awards qualification) for the last week.
-Both Chris and I picked up our packets the night before at Drummond cycles.
-Chris and I met Zuzka at the Salt Hill restaurant in downtown Lebanon. Chis had started to feel like he might be getting the cold I had so he figured he couldn't possibly hurt his performance by his meal choice…he opted for a cup of chili chased by a large plate of mac and cheese and a beer (remember that!). The food was reasonably good and there was a fair selection to choose from.
-By bedtime I decided I would do the race as long as I didn't feel terrible in the morning.
-I woke up at 4:30- tired, but willing to give it a go.
-Chris and I drove the 20 minutes from our hotel (Baymont inn) in West Lebanon to the venue in Enfield. The event is fairly small, so parking was not an issue. There is probably a 0.25mile walk from parking to the transition area.
-Be sure to check your packets carefully for helmet numbers and wave numbers. The helmet number is small (I either lost mine or was never given one). I also neglected to check my wave number (on a sticker on the outside of the packet bag), so I went around in the AM asking every volunteer I could find if they knew how the waves were broken down…none knew, but fortunately I was not the only one in this position and the race director was good enough to have one of her volunteers available with a list of bib numbers and waves. It looks like the waves covered at least 10 years (2 age groups). Chris and I were wave 2. Zuzka was wave 1. The heats were separated by 3 min.
-At the last minute the race director changed the swim status to WETSUIT LEGAL. This was obviously a downer for me, since I had left my wetsuit at home. So, the lesson is, always bring your wetsuit! You never know what the weather may bring (rain and cold nights) and many race directors seem willing to stretch the rules a little bit in order to error on the side of safety (read buoyancy).
-SWIM: Start slightly after 7am. I did NOT warm up in the water, as I was trying to figure out my start wave. This was a MISTAKE. When the swim finally started, my goggles fogged up almost instantaneously and stayed that way for the entire swim (worsening if anything). At times I could not distinguish swim caps from buoys (swim caps were hot pink and the buoys were hot orange). I had to stop several times in order to get my bearings…at one point swimming inside one of the buoys and having to stop and swim back around the outside. Sun glare was not a problem…it was overcast.
-Again, I did not have a wetsuit but almost the entire field did. This was definitely a drag (literally) on my performance.
-The swim is a double loop with a short (maybe 30ft) beach run between the end of the first loop and the start of the second. There is a buoy on the beach to help with sighting.
- After the exit there is an approximately 200ft uphill grass run to the transition area.
- 38:20. Around 3min slower than my swim on the same course in 2011. By the time I looked at my watch in the transition area, it appeared as if my swim was 40min—not encouraging.
-BIKE: The transition requires a short (maybe 20ft) run over grass and fine gravel to the bike mounting area. There is then a short (200ft) winding ride on a paved driveway to the main road/course. The course is a single loop with typical NH terrain. The road surface quality is generally good.
-I started the bike knowing I needed to make up time on the head of the field, especially considering my slow (slower than normal) swim. At the same time, I was conscious of not going out too hot. I didn't have my heart rate strap on, but I was careful to keep my breathing and exertion level comfortable; being especially careful at the start of the ride.
-In the first 15 miles I passed several riders. From mile 15 to 30 I was pretty much alone; passing only one or two riders in this section. I developed knee pain in this section, which stuck with me…not sure at all what this is about, but hopefully it goes away.
-The first 30 miles of the course was hillier than I remembered. However, the hills were all relatively short and punchy. "Rolling" is probably the appropriate description.
-At about mile 30 I saw Chris P and a few other riders. I slowly reeled them in and passed them on the long climb starting around mile 35. Chris stayed with me for a while after the pass.
-Around mile 35 the course starts a long and fairly gradual stepped climb back toward the start of the course. Much of this climb is shallow (maybe 3 to 5%), with only a few steeper sections (maybe 7-8%). There are no very steep headwalls like that found on N. Groton road in the Mooseman course. And, again, it is stepped, even rolling at times, so you do get some recovery here or there.
- The last 6 or 7 miles is rolling to descending; with a few sustained and straight descents.
- The last 4 or 5 miles of the half course overlaps the sprint course, I ended up passing several sprint racers at this point.
- I sat back a little bit for the last 2 miles or so. By this point I was at the head of the race and wanted to stretch my legs out for the run. I also didn't want to get caught up in a winning the bike split mentality…nor in "hearing footsteps."
-The bike in is right next to the bike out…and the run out for the (sprint and half); be sure to stay on the correct side of the cones to avoid runners. After the dismount there is an approximately 75 ft run over mostly grass (flat) terrain into the T area.
-Over the course of the run I drank 1 large bottle of water mixed with maltodextrin (carbohydrate) powder and a little electrolyte mix. I also drank ¾ of a small bottle of water.
-2:26:52. Slower than I thought, but I don't have any complaints.
-Run: Ugg. Need I say more? By this time everything was starting to catch up to me. My legs have never felt so heavy and I had a stomach cramp for pretty much the whole run. My perceived exertion was high for the first 2 to 3 miles (not sure what my HR was, but it was definitely high). I struggled to find my target pace, constantly over or under shooting.
- Again, run out parallels the bike in, so be sure to stay on the correct side of the cones. The run out mat is the same as the bike out mat.
- The run starts with a moderate downhill to flat for just over 2 miles; the first place finisher passed me in this section. There are two aid stations in the first 2 miles and this section is shared with the sprint course, so you may, as I did, find yourself passing sprint runners.
- At mile 1.6 the run turns left onto a beautiful but hilly road paralleling in the shoreline. This road slowly climbs to an apex probably around mile 4.5 (with an aid station around mile 3.5). This section is well shaded, but fairly steep at times. Chris P took his vengeance on me just before the top of the climb and passed me like I was standing still.
-From the apex of the hill, the course descends until you reach a nice rail trail (about mile 5.3–volunteers provide good direction). There is a rest stop at the start of the rail trail. The rail trail is obviously flat and well shaded. Most of the trail is medium sized, and fairly well packed, gravel. The rail trail section is short and includes two more aid stations….including one at the turn around and one which you pass twice (miles 6.1 and 7.4).
-After the turn around (mile 6.7) you retrace part of the rail trail and then are directed onto the street running through a small downtown. This section doesn't have much shade and could be hot on a brighter day (or later in the day). There is a very slight, but perceptible, incline here. This section is, however, short; it just turns you around so you can start climbing up the backside of the hill you summited on the way out. Be sure to look for course markers; there is a right hand turn near the center of town.
-So yes, you do have to climb back up the hill you crawled over on the way out. On the plus side, you get a nice sustained descending to flat section once you reach the summit. There is one aid station on this road; it is around mile 10.
-Once you make the right turn off the back road (about mile 11.5), you are clearly on the home stretch. The terrain is flat to slightly rising from here. There are two rest stops (mile 11.6 and 12.1) from here to the finish.
-It looks like the course is just shy of a true half marathon; which is welcome relief!
-Over the course of the run I choked down two or three gu blocks and one small cup of warm flat coke. I also took several small cups/sips of water. The whole run felt terrible, but the last 3 miles were particularly brutal. I am not sure precisely why this run felt as bad as it did…it could be due to: inappropriate nutrition, going too hard on the bike (it didn't feel that way), the fact that I did no long brick runs off the bike, the fact that I was getting over a cold, the fact that I had zero workout time in the week leading up to the race, the fact that this is my first year getting back into reliable run training or just that fact that I am not that good of a runner….of course I'm sure I could come up with any number of excuses…the bottom line: halfs are hard!
-1:38:18. Faster than I thought and much faster than it felt, but, again, the course appears to be a little short.
Lessons learned:
1) Always (Always!) bring your wetsuit.
2) Always check your packets carefully for numbers and or labels which may indicate heats.
3) Pack your entire race packet in your transition bag. If you forget anything, you will not have to go back to the car.
4) Warm up in the water? At least get your face wet and swim a few strokes. You need to test out your goggles and acclimate them.
Results:
http://back40timing.com/?p=385
Chris P's effort was good enough to place as the second overall male finisher. I came in third, by a couple long minutes.
Zuska had a strong race, winning her age group.
Eddie also joined us on the half course (his first ever!) and finished in fine fashion.